Dash Cam will not turn on, or the screen flickers and Dash Cam keeps on restarting
Possible Causes: all charger/USB cable/power bank /impropriate car charger is used to power up the Dash Cam
Solution:Please use car charger or hardwire kit of the same output voltage and current to power up the Dash Cam.
Camera shuts down automatically after some time
Possible Causes: Auto Power Off is enabled.
Solution:Disable Auto Power Off in System Setting
Dash Cam doesn't turn on automatically when the car engine starts
Possible Causes: Setting error or the device is hardwired to constant car power
Solution:Go to system setting, and reset all setting to default factory setting; hardwire the device to AAC
GPS reacts very slowly
It usually takes about 2 minutes to start GPS. It's typical behavior for GPS to be slower to catch the signal initially when starting up undercover and with no signal, when there is no signal and a cold start or warm start happens if you don't get access to open sky
Possible Causes: Not properly installed.
Solution:Keep the side without adhesive tape facing up to obtain better reception
Optional GPS Mounting Positions:
Position 1: Invisible
Position 2: Better reception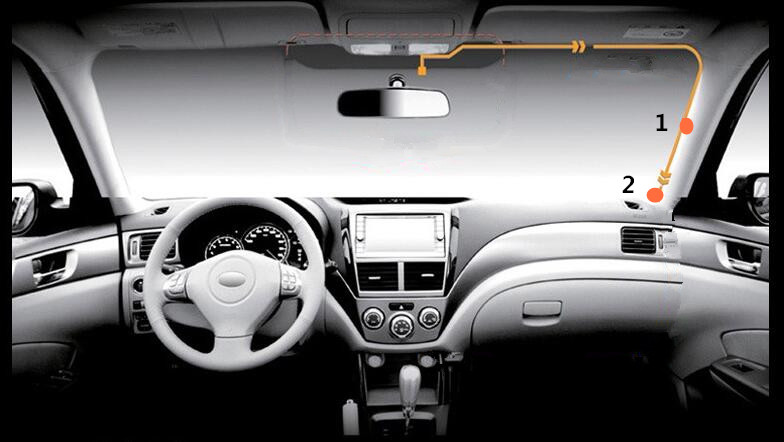 5. Unable to record videos
Possible Causes:
Memory card is full when Loop Recording is disabled
Memory card is corrupted
Not a high speed card
Solutions:
Enable Loop Recording in video setting
Format memory card
Change to a high speed memory card
6. Video quality is not good at night or in bright light
Solution: Enable HDR in video setting.
7. B40D(Dual Lens Dash Cam)The rear camera is showing up offset on the display screen
Possible Causes: The camera rotates inside the case during the installation.
Solution: Unscreen the cap, line the camera up,and re-tighten the cap